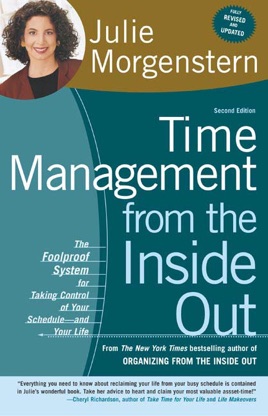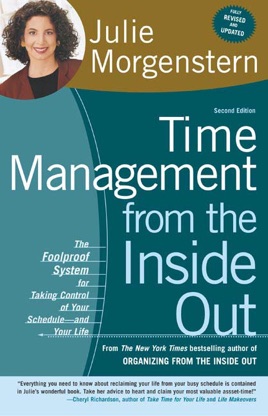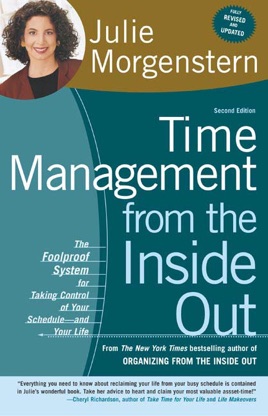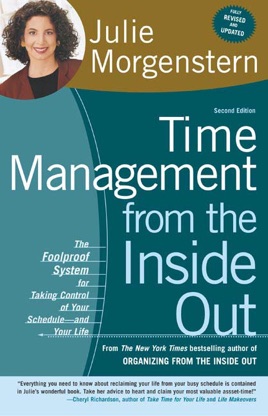 Time Management from the Inside Out
The Foolproof System for Taking Control of Your Schedule--and Your Life
Publisher Description
A thoroughly updated and expanded edition of the definitive guide to managing and freeing up time

Applying the groundbreaking from-the-inside-out approach that made Organizing from the Inside Out a New York Times bestseller, Julie Morgenstern set a new standard for the time- management category. Her system has helped countless readers uncover their psychological stumbling blocks and strengths, and develop a time-management system that suits their individual needs.

By applying her proven three-step program-Analyze, Strategize, Attack-and following her effective guidelines, readers will find more time for work, family, self-improvement, or whatever is most important to them. Time management is a learnable skill, and in this completely revised edition, Morgenstern provides the ultimate tools to combine, delegate, and eliminate unnecessary tasks; put technology to work; and stop procrastinating once and for all.

This revised edition delivers
- a new chapter about the WADE formula for getting started
- new time maps for people with irregular schedules
- new four-, eight-, and twelve-week program guides for improving time-management skills
- a fully updated resource guide
PUBLISHERS WEEKLY
Best-selling author of Organizing from the Inside Out, Morgenstern takes a similarly practical approach to time. If one thinks of time has having "edges" (rather than being amorphous), she explains, then it becomes as finite as spaceDand, consequently, just as manageable. Morgenstern believes that there are three primary reasons why people have difficulty managing time: "technical errors" (miscalculating the length of a task); "external realities" (new baby, new job) and "psychological obstacles" (perfectionism). What makes her program work, she attests, is that instead of trying to change people's natural behaviors and preferences, she encourages them to expand upon whatever is working already, no matter how overwhelmed they may feel. It all starts with knowing what one's big picture values and goals are (e.g., maintaining a happy marriage, excelling at one's career) and prioritizing those with the help of an ingenious device she's created called a "Time Map." Then, Morgenstern helps the reader apply her "SPACE" system ("sort, purge, assign a `home,' containerize and equalize")Dthe nitty-gritty of time managementDto align one's to-do list with the Time Map. Everything one does (from important phone calls to major projects) must have its time and placeDeven relaxation and fun ("There is no such thing as spare time"). Morgenstern's simple book presents a superb, sound program for "creating a life that nurtures you and makes you feel good."
Great insights backed up with useful examples and tools
I really enjoyed this book. Found it to be flexible to different styles and preferences. It helped to lay a strong foundation for better time Mgt skills. I read the book 5 years ago and still rely on some principles..."everything has a home!"
Worth every penny.
This book has proven to be a powerful tool. Ms. Morgenstern articulates every idea clearly without wasting any space. Take a look inside, you will be satisfied.
More Books by Julie Morgenstern
See All