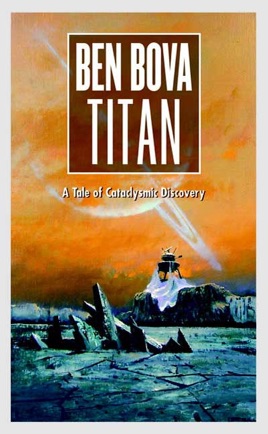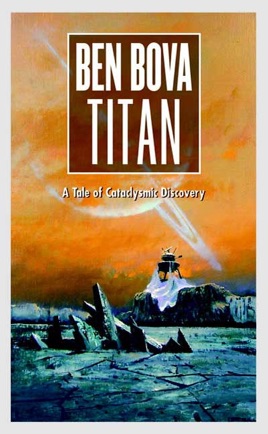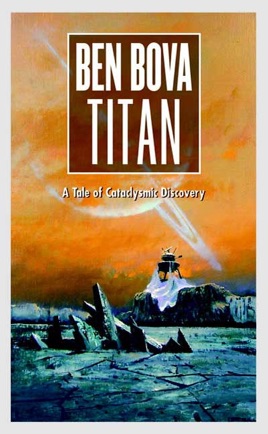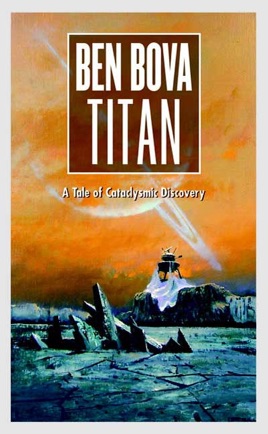 Titan
A Tale of Cataclysmic Discovery
Publisher Description
Hugo Award-winning editor, author, scientist, and journalist, Ben Bova is a modern master of near-future science fiction and a passionate advocate of manned space exploration. For more than a decade, Bova has been chronicling humanity's struggles to colonize our solar system in a series of interconnected novels known as "The Grand Tour."

Now, with Titan, Ben Bova takes readers to one of the most intriguing destinations in near space: the extraordinary moon of Saturn which made international headlines last year when the Huygens probe sent back remarkable images of its strange landscapes.

2095. After long months of travel, the gigantic colony ship Goddard has at last made orbit around Saturn, carrying a population of more than of 10,000 dissidents, rebels, extremists, and visionaries seeking a new life. Among Goddard's missions is the study of Titan, which offers the tantalizing possibility that life may exist amid its windswept islands and chill black seas.

When the exploration vessel Titan Alpha mysteriously fails after reaching the moon's surface, long buried tensions surface among the colonists. Eduoard Urbain, the mission's chief scientist, is wracked with anxiety and despair as he sees his life's work unravel. Malcolm Eberly, Goddard's chief administrator, takes ruthless measures to hold onto power as a rash of suspicious incidents threaten to undermine his authority. Holly Lane, the colony's human-resources director, must confront the station's powerful leaders to protect the lives of its people. And retired astronaut Manuel Gaeta is forced to risk his life in a last, desperate attempt to salvage the lost probe.

Torn by intrigue, sabotage, and an awesome discovery that could threaten human space exploration, a handful of courageous men and women must fight for the survival of their colony, and for the destiny of the human race.

At the Publisher's request, this title is being sold without Digital Rights Management Software (DRM) applied.
PUBLISHERS WEEKLY
In the latest planetary saga from Hugo-winner Bova (Mercury, etc.), the solidly hypothesized science enthralls, especially down on the surface of Saturn's largest moon, Titan. On Christmas Eve 2095, the exploring vehicle Titan Alpha lumbers around that mysterious minus-183-degree Celsius world of black snow, seeking traces of life. Meanwhile, the human story chiefly centered on the space habitat Goddard, in orbit above Saturn lurches along as laboriously as Alpha, the tensions among the various stereotypical characters simmering fitfully but rarely coming to a savory boil. Chief scientist Edouard Urbain makes predictable compromises to save his brainchild, Alpha. Retired CEO and gee-whiz astronaut Pancho Lane takes off on a hairy deep-space jaunt to save Saturn's rings from exploitation from "slimy SOB" Malcolm Eberly, Goddard's power-hungry leader, once lover to Pancho's reborn sister, Holly. The novel resolves the many personal conflicts in a flurry of silly political maneuvers as old as Aristophanes'Lysistrata bring 'em to heel by denying 'em sex but the result is not half as entertaining or so thought provoking.
An enjoyable read
This book followed several story lines. Some resolved in predictable ways, others did not. Even though it was easy too see where some where heading, the book was overall story was still a good one.