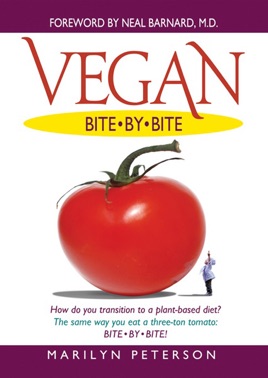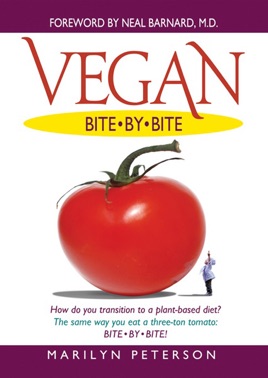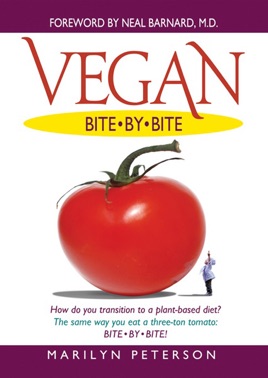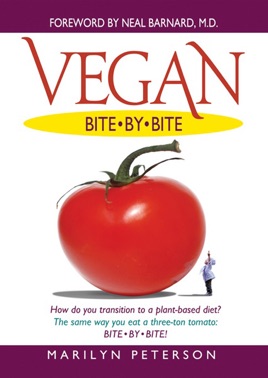 Vegan Bite By Bite
How Do You Transition to a Plant-Based Diet? The Same Way You Eat a Three-Ton Tomato: Bite By Bite!
Publisher Description
"This is a great book for doctors and patients to have as a guide to disease prevention and health promotion." - Neal Barnard, M.D. Change your life…Bite by Bite Transitioning to a vegan diet begins with a decision to be open to change; it then becomes a commitment to your new lifestyle and culminates in a decisive plan of action. Along the way there is work and play, fun and struggle, setbacks and progress. Vegan Bite by Bite serves as your essential roadmap to help you navigate the kitchen, the market and the lifestyle changes that you will confront along the way. Vegan Bite by Bite includes: • "Is there a Doctor in the House?" features interviews with: Caldwell Esselstyn, M.D., Joel Fuhrman, M.D., Michael Greger, M.D. and John McDougall, M.D. • Grocery lists • Menu plans • Recipes • Lifestyle advice Whether you're firmly committed and ready to get started or considering the vegan lifestyle and don't know how or where to begin, Vegan Bite by Bite is your one-stop resource for change.
This book is a guide to staying healthy!
Vegan Bite By Bite had special meaning for my husband and I. As an R.N., I see so much suffering in the hospitals with patients that have so many preventable conditions. There is scientific documentation that plant-based nutrition can prevent, and may even reverse many of these conditions. The documentary/movie " Forks Over Knives" is one example of the scientific documentation in support of a plant-based diet.

Vegan Bite By Bite is a guide to adopting a plant-based diet that is written in a coaching style with lots of health tips, interviews from medical doctors, and stories from various people who have made the transition. The recipe section is filled with cooking tips and sidebars of the therapeutic value of many of the vegetables used as recipe ingredients.

The menu-plans, ingredient shopping lists and store tours are very helpful to make shopping and re-stocking a kitchen easier. So far I have made Tempeh Tuna, Tahini Dressing, Spicy Beet Borscht and Sun-dried Tomato-Walnut Pate. They were all simple and very tasty.

My husband also read the book and says, "As a doctor of Oriental Medicine, Nutrition and Acupuncture, I am happy to know of a book that helps people change their dietary habits for the better. I make recommendations to my clients towards vegan diet - however, I do not have the time to instruct them about how to make those changes. Now I am happy to refer them to reading - Vegan Bite By Bite - knowing that all instruction is contained within that book.

My wife has prepared some of the recipes in the book, and I must say they are super- delicious! I now have a copy of Vegan Bite By Bite in my office waiting room for my patients."

By Sonia and Dr.Michael Dunn
GLORIOUS!!
My place of employment (Global Cardio Care) recommends a Vegan diet. I was recommended to by this book. As a new vegan, I've found this book to be very easy to read, written in a light and humorous style, with good scientific research. I enjoy the book, and my friends that I have let burrow the book are now trying the vegan way of life.
MNam
I found this book to be a groundbreaking accomplishment. It will be enlightening for so many people. It totally addresses all the reasons that Vegan is the best and healthiest diet. The recipes are sensational, definitely try these: Hot & Cold Slaw, Polenta Croquettes, Millet Burgers, Jazzy Jerusalem Artichokes. Wow, these recipes are fantastic and there are so many more. The chapter on animal rights and karma shines the light on the horrific abuse and suffering that animals have to endure. This is something people need to consider! Share this book with your friends and family who are interested in improving and maintaining their health with the most wonderful, easy, affordable recipes. In this book, I found wonderful, colorful, sumptuous photos of dishes on display. I am so inspired by the photos and enjoyed their captions. I can't wait to make those recipes.