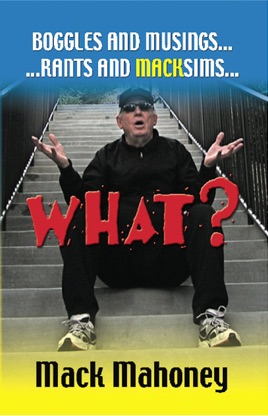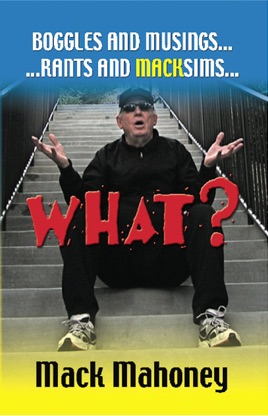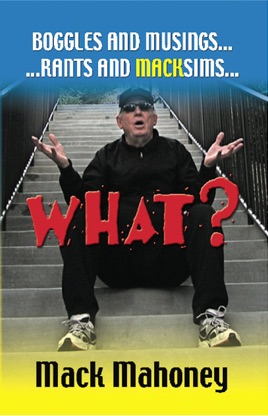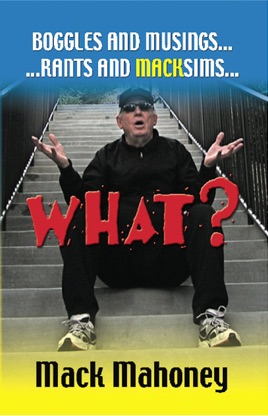 "WHAT"? - Boggles - Musings - Rants - Macksims
Publisher Description
What? is a collection of previously unpublished essays and writing, consisting of four elements: Boggles, Rants, Musings, and by the anagrammatic use of the author's name, Macksims, which are keen and discerning aphorisms. The objectives are didactic and intellectually engaging, but in an amusing well-embroidered style, transporting readers on an evocative journey of soul surfing and epiphanies.


Mack candidly discusses and examines weird personal events, observations of bizarre things, little glitches of odd human behavior, or perhaps mistakes of life that have scrolled across his vision. He bypasses arrant ideological debate to thrust forward his eccentric conclusions. He renders clearly biased and admittedly haughty assertions assuming iconoclastic guises such as devil's advocate or an irate citizen, steadfastly proving himself to be a crusty old buffoon—provocateur tongue remaining firmly in cheek throughout this mixed bag of cathartically cranky social criticism. The menu includes some remarkable experiences as well as a few rations of nostalgic recollections in the section of Ten Most Amazing memories.


Mack says that What? is not as sardonic as the writing of Andy Rooney or as capricious as P. J. O'Rourke. It doesn't have the rueful commentary of Charles Osgood, the perspicuous repartee of Mark Stein, or the narrative buoyancy of Cynthia Huntington. It's not as angry as Bob Dylan, as hilarious as Dave Barry, as immortal as John Lennon, as ingenious as Arthur C. Clarke, as acerbic as Lewis Grizzard, as profane as George Carlin or as satirical as Steve Martin. It doesn't have the warmth of Bill Cosby, the wryness of Jack Smith or the poignancy of Marjorie Morningstar. It is not as liberal as Al Franken or as conservative as Rush Limbaugh. It isn't as soulful as Robert Fulghum, as familial as Erma Bombeck, as imaginative as Ray Bradbury or written with the prolific in-depth knowledge of Isaac Asimov. 


But What? does have heaping helpings of Mack Mahoney with vicariously absorbed traces of DNA of all of the above mentioned writers, blended well and processed through his Mixmaster-mind, in order to be incisively served in a stew of Mack Mahoney's own peculiar brewing. 


It is a book that you are guarantied to enjoy from cover to cover. It is a book that will make you smile, laugh and cringe-one that you will be glad you read, and one you will want to share with your friends.