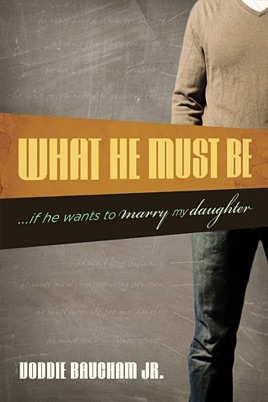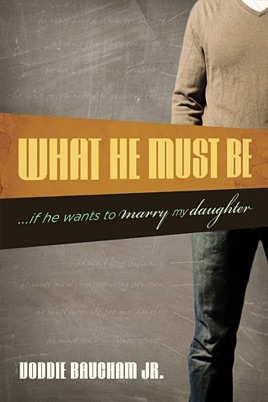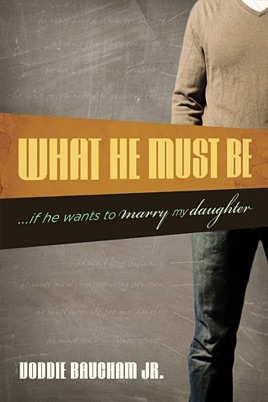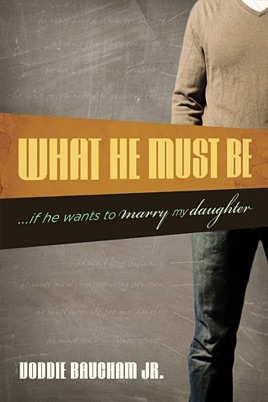 What He Must Be
...If He Wants to Marry My Daughter
Publisher Description
All parents want their daughters to marry godly young men. But which qualities, specifically, should they be looking for?

What will you say when that certain young man sits down in your living room, sweaty-palmed and tongue-tied, and asks your permission to marry your daughter? What criteria should he meet before the two of them join together for life? What He Must Be… If He Wants to Marry My Daughter outlines ten qualities parents should look for in a son-in-law, including trustworthiness, a willingness to lead his family, an understanding of his wife's role, and various spiritual leadership qualities.

Author Voddie Baucham follows up on his popular book Family Driven Faith with this compelling apologetic of biblical manhood. By studying the principles outlined in his book, parents who want their daughter to marry a godly man-as well as those who want their sons to become godly men-will be well equipped to help their children look for and develop these God-honoring qualities.
What MEN MUST read....
What he must be , is a must read. Voddie has done and amazing job with this book. I am on my second go through, and will probably come back again for more. The biblical principles Voddie sets forth are solid as a rock and are applicable today, yesterday and tomorrow, not just for dads, but for men and for women.

Take the time to read this, it will help you if you want to lead your family as we are instructed to do... Husbands love your wives like Christ loves the church.

Voddie, I am not sure if you will ever read this, but I say thank you for your straight forward words, loving heart and time you give to serving Jesus.
God bless you
More Books by Voddie Baucham Jr.
See All