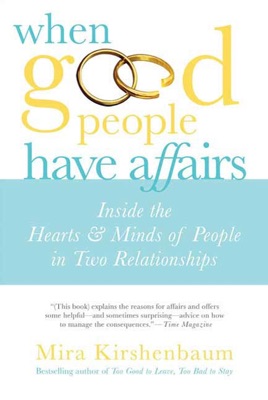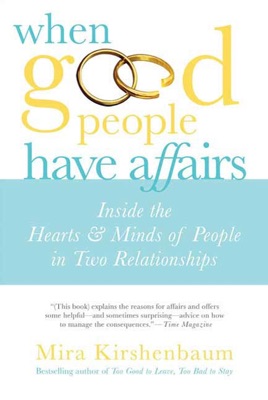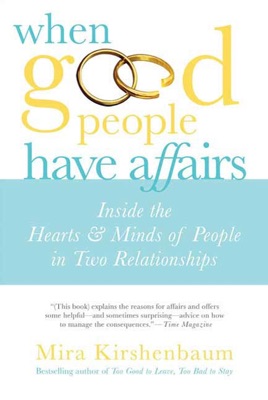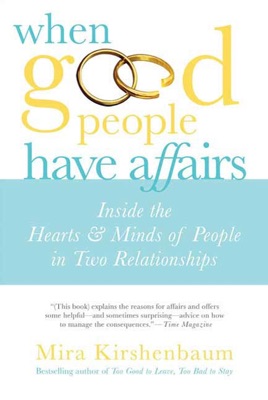 When Good People Have Affairs
Inside the Hearts & Minds of People in Two Relationships
Publisher Description
A world-renowned therapist, Mira Kirshenbaum has treated thousands of men and women caught in the powerful drama over what to do when an affair reaches into their emotional lives. Now, in When Good People Have Affairs, Kirshenbaum puts her unsurpassed experience into one clear, calming place. She gives readers everything they need to cut through the thickets of fear, hurt and confusion to find their ways to happier, more solid relationships with the person who's right for them. For example, Kirshenbaum identifies seventeen types of affairs, helping readers figure out which type they're in and what it means. Is it a:

--"See-if" affair?
--Ejector-seat affair?
--Distraction affair?
--Unmet-needs affair?
--Panic affair?

Kirshenbaum encourages honest answers to such questions as:
--What am I missing in my marriage?
--How do I decide between two people when it's like comparing an apple to an orange?
--How do I decide to end my marriage, end my affair, or end them both?

She leads readers through six easy-to-navigate steps that will take anyone from anxiety to clarity. When Good People Have Affairs will be a lifeline to any man or woman who feels caught between two lovers, and its insights are indispensable to anyone else touched by an affair.
Food for Thought
A wonderful read and resource! I couldn't put the book (well iPad mini lol) down. Kirshenbaum really injects herself well into a variety of scenarios and situations which cover a variety of possibilities either you are, have directly, or indirectly experienced. Her patient and personal accounts are fantastic and entertaining. Reading this has inspired me to not break up, nor stay together, but more importantly to look at my life and turn the focus towards self, relationship, and life improvement. It's not selfish to want what you want so long as you're thoughtful and know what you want. And even if you don't know what you want, Kirshenbaum offers ways to help you think about how to figure that out! My emotional intelligence (although far from genius level) increased after finishing this great book. Thank you for the food for thought... I am hungry for more and can't wait til the next meal!
Dishonesty is not good advice
Unfortunately it seemed like a good book until about page 45 when the author tells you not to tell your spouse about an affair unless you had unprotected sex, or the spouse will find out. Sorry after being the "victim" of a recent affair, when the book starts out with keeping things from your spouse, not for me. I stopped reading it right after that. So guess this review is based on the first 45 pages.
Good information
The author has great information on the emotions involved in affairs. The guilt I have been feeling was explained and I feel a little better about everything that has happened. I wish there had been information on when both partners have affairs.

The book deserves reading if you have been on either side of an affair, it definitely helped ease the pain, thanks!
More Books by Mira Kirshenbaum
See All