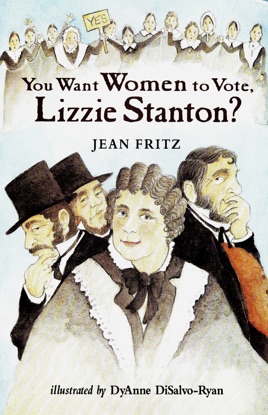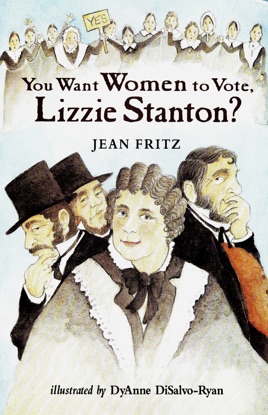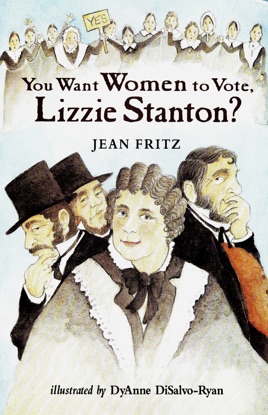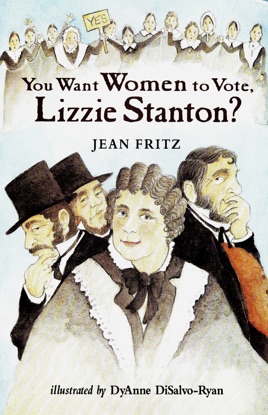 You Want Women to Vote, Lizzie Stanton?
Publisher Description
This biography of Elizabeth Cady Stanton is as spirited as the women's rights pioneer herself.

Who says women shouldn't speak in public? And why can't they vote? These are questions Elizabeth Cady Stanton grew up asking herself. Her father believed that girls didn't count as much as boys, and her own husband once got so embarrassed when she spoke at a convention that he left town. Luckily Lizzie wasn't one to let society stop her from fighting for equality for everyone. And though she didn't live long enough to see women get to vote, our entire country benefited from her fight for women's rights.
"Fritz imparts not just a sense of Stanton's accomplishments but a picture of the greater society Stanton strove to change. Highly entertaining and enlightening." — Publishers Weekly (starred review)

"This objective depiction of Stanton's life and times makes readers feel invested in her struggle." — School Library Journal (starred review)

"An accessible, fascinating portrait." — The Horn Book
PUBLISHERS WEEKLY
Fritz maintains her reputation for fresh and lively historical writing with this biography of the 19th-century American feminist Elizabeth Cady Stanton (1815-1902), imparting to her readers not just a sense of Stanton's accomplishments but a picture of the greater society Stanton strove to change. Stanton is first introduced in girlhood, mastering task after task in a futile effort to prove to her father that she was ``just as good as any boy.'' Brightly told anecdotes tell of the adult Stanton's excitement in rousing audiences to concern for women's rights; Fritz sets the background by outlining the prevailing social sanctions against women speaking in public. She explores Stanton's responsibilities in raising seven children; her unconventional marriage; her long collaboration with Susan B. Anthony; her attempts to cope with dissension within the women's rights movement. Throughout, the author stresses Stanton's pluck and verve, quoting Stanton's sharp comebacks to ``apple-headed'' men or showing Stanton during the statewide celebration of her 80th birthday, using the attention to excoriate the church for its backwardness (``Susan must have groaned,'' Fritz conjectures). Highly entertaining and enlightening. Ages 10-14.
Good
I did a report on this book!! It was Actully interesting!! I liked it a lot!!! It was better than I thought!! I think u should try it!! I got a really good gree on it and I want to read it again!! It's so good!
Good premise, but bad book
I was really ashamed while reading this book. I really love the story of Elizabeth Stanton and the women suffrage movement. But this book is just bad and is very repetitive. It seems like every chapter starts with "Lizze Stanton did...." I mean reading this book was just such a bore and I'll list three things I would rather do than read this book.
1. Play video games
2. Watch TV
3. Do basically anything else besides this, include read an actual book about Lizzie Stanton.
Overall, this book had great potential, but failed to fully grasp it.