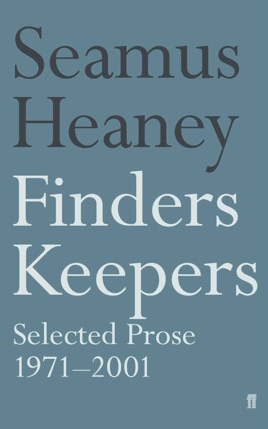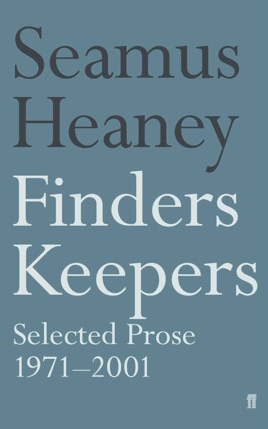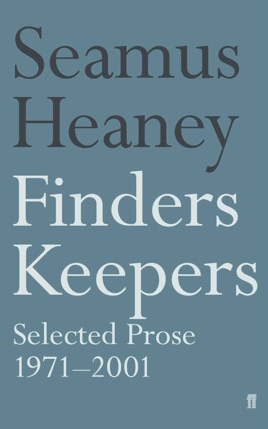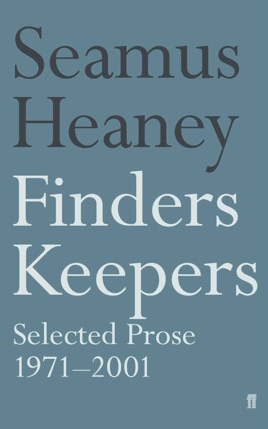 Finders Keepers
Selected Prose 1971 - 2001
Publisher Description
Finders Keepers is a gathering of Seamus Heaney's prose of three decades. Whether autobiographical, topical or specifically literary, these essays and lectures circle the central preoccupying questions: 'How should a poet properly live and write? What is his relationship to be to his own voice, his own place, his literary heritage and the contemporary world?'

As well as being a selection from the poet's three previous collections of prose (Preoccupations, The Government of the Tongue and The Redress of Poetry), the present volume includes material from The Place of Writing, a series of lectures delivered at Emory University in 1988. Also included are a rich variety of pieces not previously collected in volume form, ranging from short newspaper articles to more extended lectures and contributions to books, including 'Place and Displacement' (1984), only available previously as a pamphlet, and 'Burns's Art Speech', written for the bicentennial of Robert Burns's death. In its soundings of a wide range of poets - Irish and British, American and East European, predecessors and contemporaries - Finders Keepers is, as its title indicates, 'an announcement of both excitement and possession'.
PUBLISHERS WEEKLY
Ireland's most recent Nobel laureate offers up many old, and some new, critical and autobiographical essays in this invitingly capacious volume, which reprints most of his previous books of prose, from Preoccupations (1980) to the Oxford lectures in The Redress of Poetry (1995). The book, like its title, both "expresses glee and stakes a claim," as Heaney remarks. Subjects of glee (or appreciation, anyway) include several major (and some minor) poets, among them Elizabeth Bishop, Robert Lowell, John Clare, W.H. Auden, W.B. Yeats and Patrick Kavanagh, all examined in the literary criticism that makes up the second and longest of the book's three parts. Heaney as critic both offers insight into the makings of others' verse and shows how his readings of others' poetry (such as Clare's and Kavanagh's) have informed the making of his own. More general pieces examine, for example, "The Irish Poet in Britain" and the place of poets in the classroom. Part three collects recent book reviews and short magazine pieces, among them Heaney's memorial to Joseph Brodsky and his famous division of Paul Muldoon's oeuvre into "muldoodles" and "mulboons." Of equal or broader interest are the personal reflections in the volume's first section, which moves from the "secret nests" of Heaney's childhood to Belfast in the 1960s and the Irish peace process of the 1990s. Evocative, bedazzling and fruitful in its implications, Heaney's prose has become a necessary complement to his poetry.
More Books by Seamus Heaney
See All