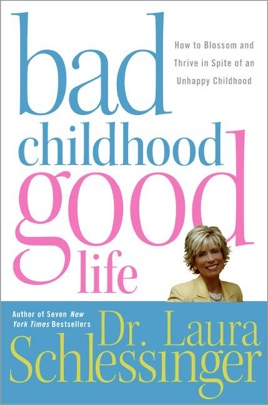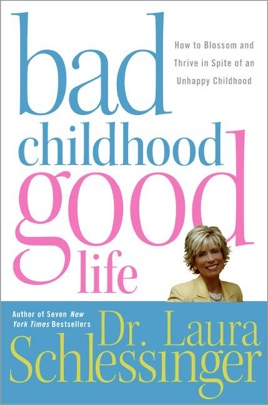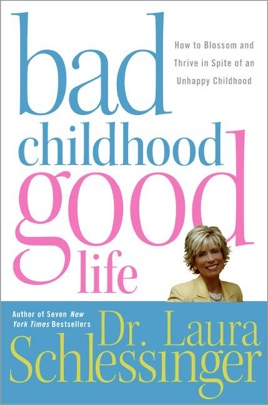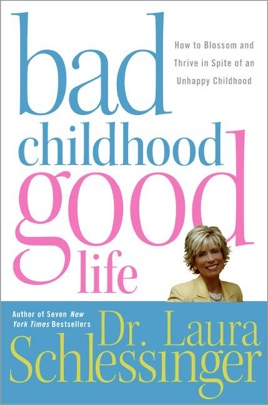 Bad Childhood---Good Life
How to Blossom and Thrive in spite of an
Publisher Description
In her most important book yet, Dr. Laura Schlessinger shows men and women that they can have a Good Life no matter how Bad their Childhood was.
For each of us, there is a connection between our early family dynamics and experiences and our current attitudes and decisions. Many of the people Dr. Laura has helped did not realize how their histories impacted their adult lives, or how their choices in people, repetitive situations, and decisions -- even their emotional reactions -- were connected to those early negative experiences, playing a major role in their current unhappiness.

Dr. Laura will help you realize that no matter what circumstances you came from or currently live in, you are ultimately responsible for how you react to them. The acceptance of this basic truth is the source of your power to secure the Good Life you long for. In her signature straightforward style, with real-life examples, Dr. Laura shows you what you will gain by not being satisfied with an identity as a victim, or even as a survivor -- you should strive to be a victor!

In Bad Childhood -- Good Life, Dr. Laura will guide you to accept the truth of the assaults on your psyche and soul, understand your unique coping style and how it impacts your daily thoughts and actions, and help you embrace a life of more peace and happiness.
PUBLISHERS WEEKLY
Tis the season, right? For childhood issues to flare up just in time for the trip home for the holidays. Instead of resolving to lose those pesky 10 pounds, 2006 may be the perfect time to stop letting a bad childhood ruin another year, says Schlessinger, author of seven New York Times bestsellers and host of an internationally syndicated radio talk show. Schlessinger uses radio listeners' call-ins, her own stories and a little help from Carly Simon to help adults stuck in the past break free from destructive patterns and move peaceably forward. "The truth is that there is always a battle between the history and the present," she writes. Schlessinger tailors her advice staples (take charge, get tough, be positive, live for something other than yourself) toward securing victory over childhood traumas by admonishing readers against thinking emotionally about emotional subjects, advocating black and white reasoning (one listener's mother is deemed "evil") and proposing an amoeba-brainless and unthinking-constitutes a workable decision making model. Readers already of the Schlessinger school will find much here to appreciate, though it's doubtful this will win her any new fans.
Bad Childhood Good Life
Very informative. Dr. Schlesinger gives thought provoking examples from her radio show that helped me gain insight into my family issues. 5 Stars!
More Books by Dr. Laura Schlessinger
See All