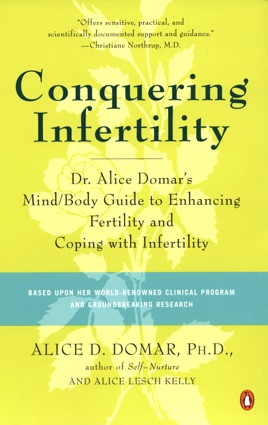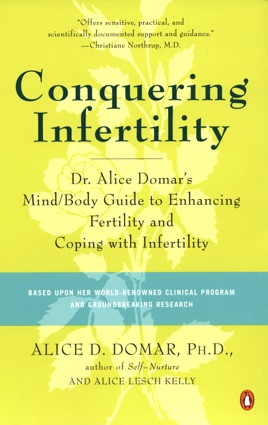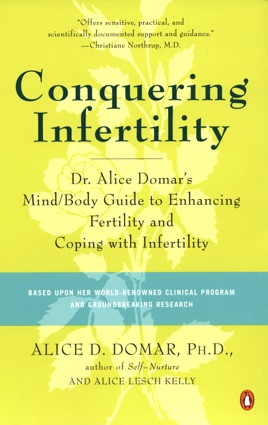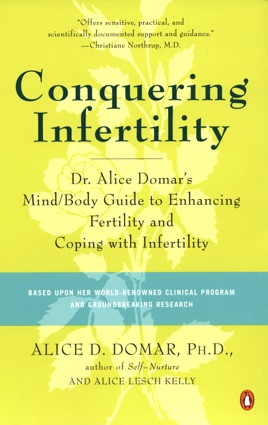 Conquering Infertility
Dr. Alice Domar's Mind/Body Guide to Enhancing Fertility and Coping with Inferti lity
Publisher Description
Infertility is a heartbreaking condition that affects nine million American couples each year. It causes tremendous stress, can trigger debilitating sadness and depression, and can tear a marriage to shreds. In Conquering Infertility, Harvard psychologist Alice Domar—whom Vogue calls the "Fertility Goddess"—provides infertile couples with what they need most: stress relief, support, and hope. Using the innovative mind/body techniques she has perfected at her clinic, Domar helps infertile women not only regain control over their lives but also boost their chances of becoming pregnant.
With Conquering Infertility, women learn how to cope with infertility in a much more positive way and to carve a path toward a rich, full, happy life.
PUBLISHERS WEEKLY
Focusing on a topic the author covered more briefly in Healing Mind, Healthy Women, Domar, an assistant professor of medicine at Harvard, with freelance writer Kelly, provides here a well-written and supportive self-help manual for women who have been unable to sustain a pregnancy. The stresses that accompany infertility can impact negatively on a woman's relationship with her husband, family members, friends and colleagues. Domar strongly recommends and fully describes such relaxation techniques as yoga, meditation, journal writing and guided imagery as useful ways to cope with infertility treatments, feelings of failure, and obsessive envy of women who are mothers. She also details how to overcome sexual and emotional tensions that spring up between married couples around this issue. Drawing on case studies and recent research indicating that the depression resulting from infertility can actually hinder attempts to become pregnant, the author advocates a positive approach based on self-nurturing that will improve an infertile woman's outlook on life. Domar also discusses when it may be time to abandon expensive and painful infertility treatments and, depending on the individuals involved, explore using donor eggs or sperm, pursue adoption or come to a decision to remain childless. 7-city author tour.
More Books by Alice D. Domar & Alice Lesch Kelly
See All