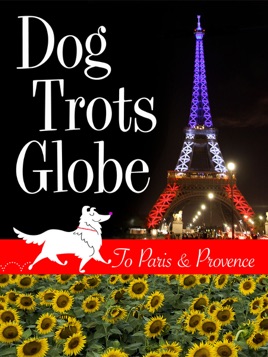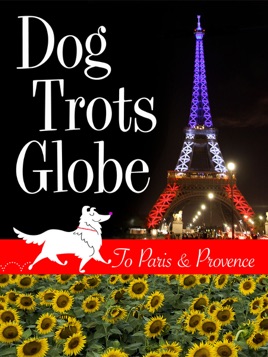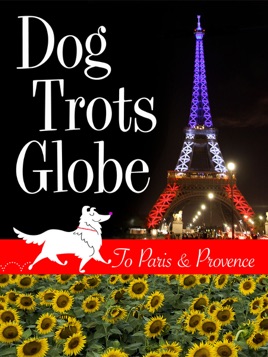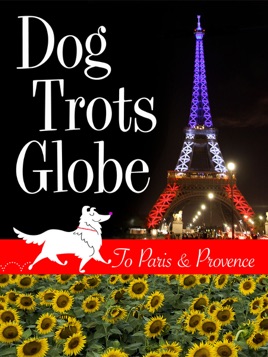 Dog Trots Globe (Enhanced Edition)
To Paris and Provence
Publisher Description
Join Chula, a 9-year-old Sheltie, as she travels from California to France. In this enhanced edition, experience the adventures through 4 embedded videos, original music, useful maps, and expandable photographs. See inside French culture, admire Parisian cityscapes, and "walk" the Provençal countryside.


This lively and often funny adventure finds Chula sniffing around the boulangeries, lavender fields, and big outdoor markets of Provence. In Paris, she trots across the Seine, stands on her hind legs in awe of the Eiffel Tower, tries to smile back at the Mona Lisa, and attends opening night at a Paris gallery. 


In the videos, visit markets of Provence, experience 3,000 sheep on the run, admire the sparkling Eiffel Tower, and take a glorious walk with Chula through Saint-Rémy-de-Provence.


Through this multi-sensory read and Chula's unique perspective, you'll experience Paris and Provence in a delightful new way and see why Chula says, "It's a dog's life there!"


· A fun read with a dog's eye view of France.


· More than 150 vivid photographs of Paris and Provence.


· Anecdotes on French life and info on everything from cheeses to the Eiffel Tower.


· Helpful Afterword on pet travel.


· Online Extras on French travel, dog fun, and free downloads.
Charming Canine Memoir-via-Travelogue
I just finished Dog Trots Globe - To Paris & Provence and it left a big smile on my face - I'd wag if I had a tail to wag with! I'm so glad Sheron's 9 year-old Sheltie, Chula, was willing to give us readers a 'dog's-eye-view' of her travels. This part-travelogue, part-canine memoir took a refreshing approach, showcased an endearing narrator, and used beautiful photographs to liven the tale. The book's enhanced version gave added delightful and surprising sound bytes and videos to enrich the reading experience.

Chula's journey began at Carmel Valley in California where she prepared for the longest stretch of her travel - a plane ride to France. Most of Chula's visit was spent in Saint-Rémy-de-Provence, but there were interesting adventures in Sault, Roussillon, and Paris. Chula regaled me with tales of 'boulangeries' (bakeries) to sniff, Market Days to enjoy, fields of sunflowers and lavender to explore. She gave me tips on how sensitive noses visit a 'fromagerie' (cheese shop), on how to locate the next 'grass facility' during long plane and bullet train rides, and how to make sense of the many signs and rules for four-legged creatures in bustling Paris. And when Chula's tale was done and she was back enjoying her creature comforts in California, Sheron Long was kind enough in the Afterword to supply me with tips and important considerations when taking one's pet to France.

I was immediately won over when I saw the first shot of Chula - she was aptly named, with "Chula" meaning "pretty" in Spanish. An adventure with this adorable star was certain to bring a smile and a chuckle my way! But Sheron Long did more than let Chula's good looks do the work - the book's lighthearted tone and easy-going pace helped me enjoy a lot of interesting information about France and Provence's different regions without getting bogged down by too many details. Readers who get a printed copy of the book will find the beautiful pictures a breathtaking accent to Chula's account of her travels, and Darius Detwiler's illustrations add a sweet charm to the printed pages. Readers who can access the enhanced version of the book will find the accompanying videos a vibrant description of the sights and sounds Chula experienced - I had no idea what a deafening ruckus a street full of sheep and goats would make! No wonder Chula ran for cover - not one of her shining moments, but even a Shetland Sheepdog can only take so much sheep-wise. Seeing that video of the La Transhumance (the herding of livestock from the lowlands to the highland grazing grounds every Spring during Pentecost), definitively drove that point home to me!

Dog Trots Globe - To Paris & Provence was a delightful read, and its appeal will touch many different kinds of readers. Would I recommend it to dog-loving Francophiles? That's preaching to the converted, really - but I would hazard that Chula herself would win over a cat-loving Francophile, and dog-lovers who have never given France a second thought would enjoy it through Chula's eyes. I also think that even if the reader is still quite young, say about 5 years old and up, the enhanced version could possibly start a curious young mind to thinking about France and other interesting places to see and learn about. So I'll say Highly Recommended, and wait around to see if Chula decides to travel again - I would love to hear about where she'll go next!
REALLY good book
I've never seen my kids so wide-eyed and excited while reading them a book as when I read "Dog Trots Globe." They eagerly asked to see every picture and hung on every word. My youngest asked me "Has Sherry written anything else you can read to us?" General consensus was "Mom, this is a REALLY good book."
Enhanced ebooks are the future
This is a cute story told from the point-of-view of the dog. My favorite part of this is the embedded video and audio. I feel like I'm actually in France with her. I like the marketplace song so much sometimes I just turn on the video to hear it play in the background. This is a really cool concept and I hope more books start incorporating photos and videos like this one does.