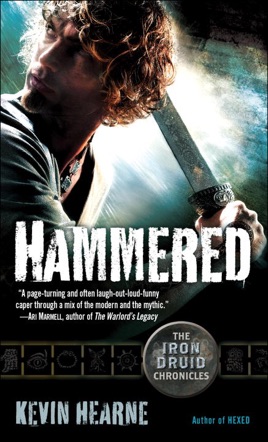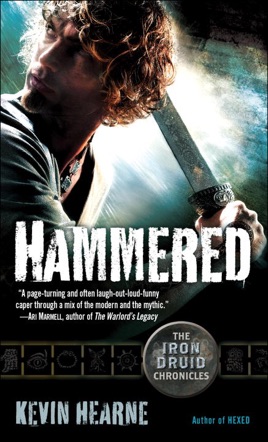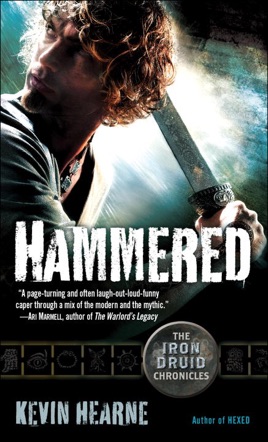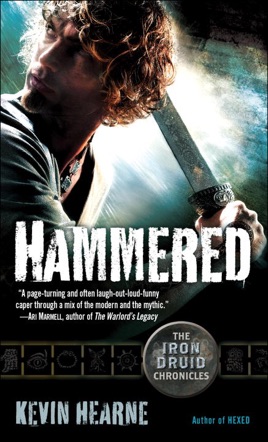 Hammered (with bonus short story)
The Iron Druid Chronicles, Book Three
Publisher Description
This ebook edition includes a special preview of Kevin Hearne's upcoming novel A Plague of Giants.

Thor, the Norse god of thunder, is worse than a blowhard and a bully—he's ruined countless lives and killed scores of innocents. After centuries, Viking vampire Leif Helgarson is ready to get his vengeance, and he's asked his friend Atticus O'Sullivan, the last of the Druids, to help take down this Norse nightmare.

One survival strategy has worked for Atticus for more than two thousand years: stay away from the guy with the lightning bolts. But things are heating up in Atticus's home base of Tempe, Arizona. There's a vampire turf war brewing, and Russian demon hunters who call themselves the Hammers of God are running rampant. Despite multiple warnings and portents of dire consequences, Atticus and Leif journey to the Norse plain of Asgard, where they team up with a werewolf, a sorcerer, and an army of frost giants for an epic showdown against vicious Valkyries, angry gods, and the hammer-wielding Thunder Thug himself.

Don't miss any of Kevin Hearne's phenomenal Iron Druid Chronicles novels:
HOUNDED | HEXED | HAMMERED | TRICKED | TRAPPED | HUNTED | SHATTERED | STAKED
PUBLISHERS WEEKLY
In the adrenaline-spiked third Iron Druid adventure (following Hounded and Hexed), Atticus O'Sullivan, the 1,200-year-old sexy warrior druid, pops into Asgard, steals one of the golden apples of immortality, and zips back out again. Piece of cake until he has to go back and face off against Thor, the extremely irritating Norse god of thunder. Thor has annoyed a whole lot of people over the eons, chief among them Leif Helgarson, an ancient vampire with a mighty grudge. Atticus reluctantly teams up with Leif and Gunnar Magnusson, the alpha werewolf of the Tempe, Ariz., pack, to take Thor down that is, if everything goes according to plan, which it never does. Hearne provides lots of zippy plotting and rocking action scenes, and fans will be thrilled by hints that the series is set to continue.
Smooth read!
I bought the paperback version of "Hounded" while coming back from a deployment, I was going to give it to my son, but for some reason I decided to read it to just pass the time, after the first chapter I was hooked! I could not wait to read the next two! I down loaded Hexed, and then Hounded as soon as they became available on iBooks. When I found out there was "bonus stories" on the e-book version, I down loaded Hounded just to get more! Keep them coming Kevin!
A Funny Fantasy
Kevin has his act together when writing about the alternate universe as seen through the eyes of the last Druid on earth.
I have read three of his books and will read more. He's a cool Druid.
Fun read.
Liked it. Reminds me of others but different. Great story telling.