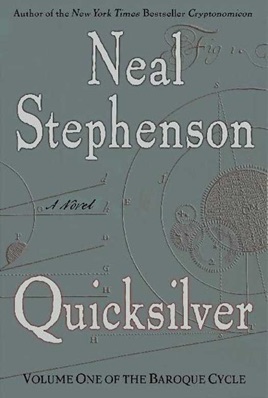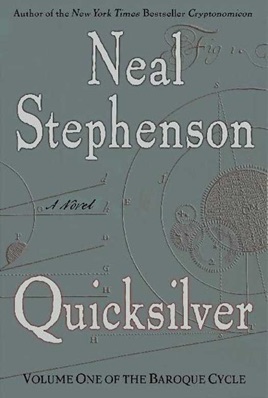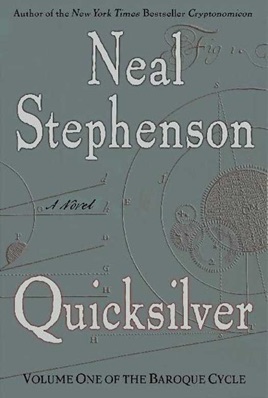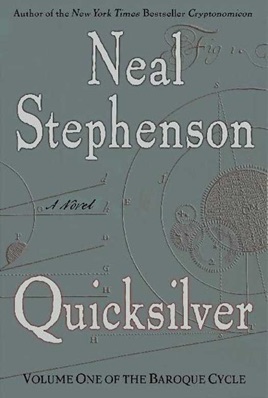 Quicksilver
Volume One of The Baroque Cycle
Publisher Description
Quicksilver is the story of Daniel Waterhouse, fearless thinker and conflicted Puritan, pursuing knowledge in the company of the greatest minds of Baroque-era Europe, in a chaotic world where reason wars with the bloody ambitions of the mighty, and where catastrophe, natural or otherwise, can alter the political landscape overnight.

It is a chronicle of the breathtaking exploits of "Half-Cocked Jack" Shaftoe -- London street urchin turned swashbuckling adventurer and legendary King of the Vagabonds -- risking life and limb for fortune and love while slowly maddening from the pox.

And it is the tale of Eliza, rescued by Jack from a Turkish harem to become spy, confidante, and pawn of royals in order to reinvent Europe through the newborn power of finance.

A gloriously rich, entertaining, and endlessly inventive novel that brings a remarkable age and its momentous events to vivid life, Quicksilver is an extraordinary achievement from one of the most original and important literary talents of our time.

And it's just the beginning ...
PUBLISHERS WEEKLY
Stephenson's very long historical novel, the first volume of a projected trilogy, finds Enoch Root, the Wandering Jew/alchemist from 1999's Cryptonomicon, arriving in 1713 Boston to collect Daniel Waterhouse and take him back to Europe. Waterhouse, an experimenter in early computational systems and an old pal of Isaac Newton, is needed to mediate the fight for precedence between Newton and scientist and philosopher Gottfried Wilhelm Leibniz, both of whom independently invented the calculus. Their escalating feud threatens to revert science to pre-empirical times. Root believes Waterhouse, as a close friend to both mathematicians, has the ability to calm the neurotic Newton's nerves and make peace with Leibniz. As Waterhouse sails back to Europe (and eludes capture by the pirate Blackbeard), he reminisces about Newton and the birth of England's scientific revolution during the 1600s. While the Waterhouse story line lets readers see luminaries like Robert Hooke and Isaac Newton at work, a concurrent plot line follows vagabond Jack Shaftoe (an ancestor of a Cryptonomicon character, as is Waterhouse), on his journey across 17th-century continental Europe. Jack meets Eliza, a young English woman who has escaped from a Turkish harem, where she spent her teenage years. The resourceful Eliza eventually rises and achieves revenge against the slave merchant who sold her to the Turks. Stephenson, once best known for his techno-geek SF novel Snow Crash, skillfully reimagines empiricists Newton, Hooke and Leibniz, and creatively retells the birth of the scientific revolution. He has a strong feel for history and a knack for bringing settings to life. Expect high interest in this title, as much for its size and ambition, which make it a publishing event, as for its sales potential which is high. FYI:The second volume in the Baroque Cycle, The Confusion, is scheduled to hit stores next April, followed by The System of the World in September 2004.
So good it pisses me off
As a big fan of historical fiction, Quicksilver was to me both a Glorious Revolution and a hard to pass kidney stone (read book for allusions). The glorious part was the wonderful mix of thorough historical research with a cast of interesting fictional characters, plot lines and dialog to bind it all together. The kidney stone part is the painful and semi-hopeless situation of knowing one's long held dream of authoring just such a work or perhaps a piece of science fiction (e.g. Seveneves) is a laughable fantasy. My time would be much better spent simply reading the works of Mr. Stephenson. I await them with cringing eagerness.
Quicksilver
I just read Quicksilver for the second time in three years. Tackling the Baroque Cycle twice in three years? Shows how much I enjoyed it the first time through!
Engrossing read!
This is the first in Stephenson's Baroque series that will bring you in to the world of 17th century adventure, science and intrigue. I could hardly put it down.
More Books by Neal Stephenson
See All