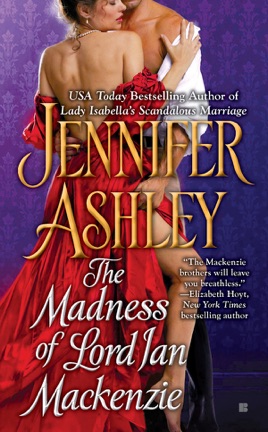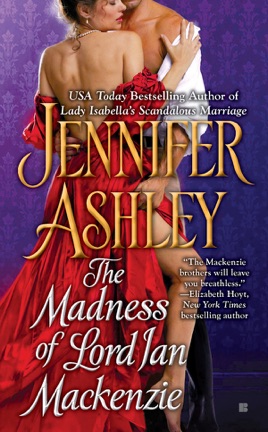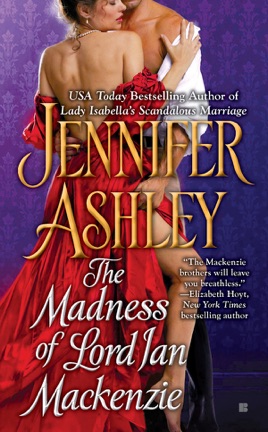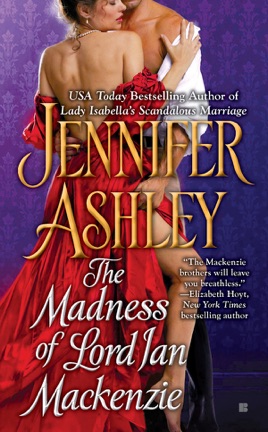 The Madness of Lord Ian Mackenzie
Publisher Description
A woman is drawn to a dangerously intruiging man in this unique historical romance from New York Times bestselling author Jennifer Ashley.

It was whispered all through London Society that Ian Mackenzie was mad, that he'd spent his youth in an asylum, and was not to be trusted—especially with a lady. For the reputation of any woman caught in his presence was instantly ruined.
 
Yet Beth found herself inexorably drawn to the Scottish lord whose hint of a brogue wrapped around her like silk and whose touch could draw her into a world of ecstasy. Despite his decadence and his intimidating intelligence, she could see that he needed help. Her help. Because suddenly the only thing that made sense to her was…The Madness of Lord Ian Mackenzie.

Really unique
I love it when an author surprises me, and this book blew me away. Ashley has created an original hero, one on the spectrum, but who retains his sex appeal.
Not only does she present this enigmatic man, but she gives us insight into how he perceives the world, which is just fascinating.
After reading this novel, I spent the next three weeks acquiring and reading all of the Mackenzie books. Yum!
Honestly, the best thing about her writing is her tendency to say "what's a common trope and how can I turn it on its side now?"
So, you get these great Scots, their independent women, and some super mysteries.
And while all the books are fun, this is the one I read over and over. It remains my favorite.
The Madness of Ian M.
Love this book. Have it on iPad and paperback. Have re read it at least 5 or 6 times. The whole series is great and Jennifer is a wonderful writer.
brought tears to my eyes - a splendid journey!
I totally did not want to read this book. After all, how could a hero with Aspergers (a form of autism) be sexy or romantic?! But ladies, believe me when I tell you once I picked up this book I did not put it down until it was finished. Then I went back and highlighted my favorite passages. Swoon!

This is an amazing story that is worth rereading time and time again. The author Took a risk giving her hero this disability but the story played out beautifully. I really loved the slow build of emotions that the author was able to create in the story. I really hate novels that subscribe to the whole love at first sight ideology. What you have here is a relationship that slowly develops and is totally consuming by the end of the book. I laughed,I cried, my heart ached. I didn't want the story to end. Highly recommend!!!!
More Books by Jennifer Ashley
See All