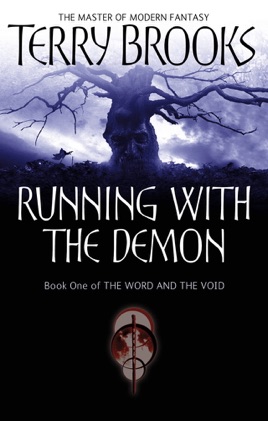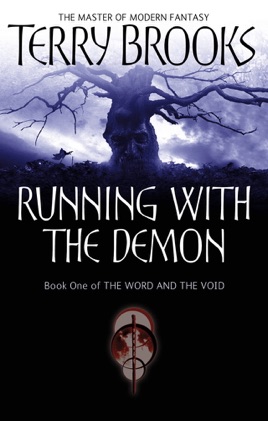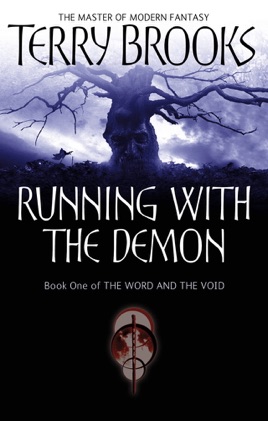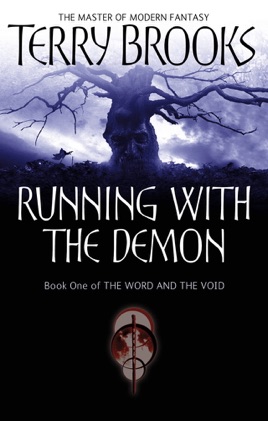 Running With The Demon
The Word and the Void Series: Book One
Publisher Description
***50 MILLION TERRY BROOKS COPIES SOLD AROUND THE WORLD***

THE SHANNARA CHRONICLES IS NOW A MAJOR TV SERIES

'Terry's place is at the head of the fantasy world' Philip Pullman

It is the beginning of the hottest July in decades, and two men have come to Hopewell, Illinois. One is not human, a dark servant of the Void, who will use the anger and frustration of the community to achieve a terrible secret goal. The other is John Ross, a Knight of the Word. While he sleeps, he lives in the hell the world will become if he fails to change its course on waking. John Ross has been given the ability to see the future. But does he have the power to change it?

At stake is the soul of a fourteen-year-old girl and the lives of the people of Hopewell. And that's just the beginning. This Fourth of July, while friends and families picnic in Sinnissippi Park and fireworks explode in celebration of freedom and independence, the fate of Humanity itself will be decided . . .

Praise for Terry Brooks:

'A master of the craft . . . required reading' Brent Weeks

'I can't even begin to count how many of Terry Brooks's books I've read (and re-read) over the years' Patrick Rothfuss, author of The Name of the Wind

'I would not be writing epic fantasy today if not for Shannara' Peter V. Brett, author of The Painted Man

'If you haven't read Terry Brooks, you haven't read fantasy' Christopher Paolini, author of Eragon

The Word and the Void:

RUNNING WITH THE DEMON
A KNIGHT OF THE WORD
ANGEL FIRE EAST
PUBLISHERS WEEKLY
The genius of Brooks lies in his inspired joining of different worlds in one intricate tale. Here, for instance, are teen romance, satanic horror, elfin fantasy and Native American mythology, among other elements. Nest Freemark, a 14-year-old in an Illinois factory town, possesses magic powers whose precise nature is a mystery, as is the reason for her mother's suicide. Nest's grandmother, a dreary alcoholic since her daughter's death, guides Nest in using the magic but keeps many secrets, including the origin of the strange spirit-beast "Wraith," who protects Nest from the "feeders"--spirits who live on fear and hatred. Nest has a charmingly grouchy elfin partner, "Pick," with whom she tends the spiritual balance of the land. In the midst of Nest's adolescent awakening, a demon comes to town. He is an insidious presence who incites deadly violence and unleashes terrible malevolences from the land itself. John Ross, a "Knight of the Word," arrives to stop him, to protect Nest and to prevent the grim future he sees in his dreams. Dramatically, Ross's character is a confusion: his much-touted presence ends up making no difference at all--Nest herself turns the last trick. Still, Brooks's pacing is fabulous, and he manages to surprise and yet to maintain a feeling of inevitability. The last third of the book is a breathtaking run of near-catastrophes and revelations. As his first novel to be set in the modern world, this volume represents a significant development for Brooks; but his fans should embrace it as eagerly as they have The Sword of Shannara and his many other bestsellers. 250,000 first printing.
Awesome
I have read the shannara books on recommendation from a friend starting with the first king and the first trilogy. Upon finding out this was the beginning of it all I jumped at the chance. The story and characters are awesome and I believe anyone who loves fantasy should read these books
Running with the demon
A slow to begin but persivere and it is fantastic a good starter for the knights of the word series
.
This book is amazing , I found it in waterstones and thought il give it a go and I couldn't put it down and the 2 books that follow are just as amazing.
Fantastic book so glad it's finally available for pad.
Shame about the price :)