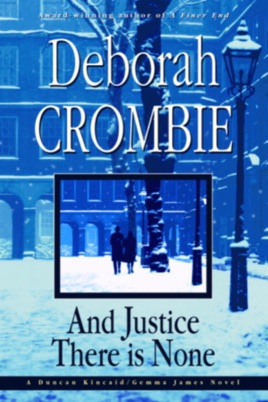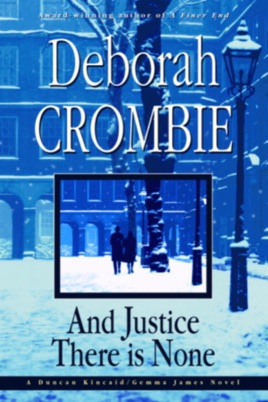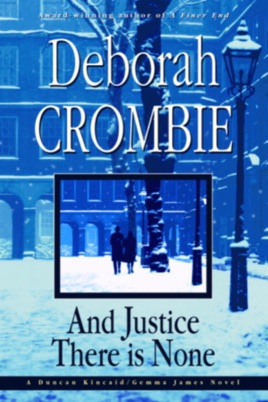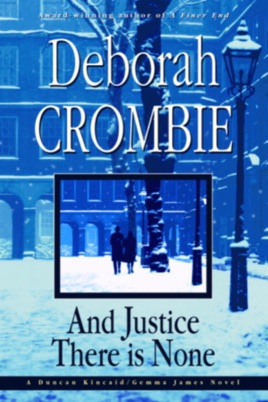 And Justice There Is None
Publisher Description
Award-winning author Deborah Crombie has elevated the modern mystery novel to new heights of human drama and multilayered suspense with her critically acclaimed tales of intrigue featuring Scotland Yard Detective Superintendent Duncan Kincaid and Sergeant Gemma James. In their latest outing, Kincaid and his former partner--and soon-to-be roommate--follow a twisting trail of rage and retribution whose buried roots are about to exact a deadly toll on the living.

And Justice There is None

Gemma James is adjusting to professional and personal changes that include her eagerly sought promotion to the rank of inspector--and a future now intricately entwined with Duncan Kincaid. But her new responsibilities are put to the test when she is placed in charge of a particularly brutal homicide: The lovely young wife of a wealthy antiques dealer has been found murdered on fashionable Notting Hill.

Dawn Arrowood was six weeks pregnant. Her lover, Alex Dunn, a porcelain dealer in London's bustling Portobello Market, appears absolutely devastated by her death, but Gemma's the main focus of investigation is soon Karl Arrowood, who had the most powerful motive for killing his unfaithful wife. But this case sets off warning bells for Duncan: it's far too similar to an unsolved murder in which an antiques dealer was killed in precisely the same way and when the escalating violence claims yet another victim, he and Gemma find themselves at increasing odds with each other--as two separate investigations become linked in the most startling of ways. Their hunt for a killer will traverse the teeming stalls of the city's antiques markets to a decades-in-the-making vendetta of history and hatred that has been honed to a flawless, deadly point. To solve this case, Gemma and Duncan must walk a merciless razor's edge through a place where true justice will be a long time coming.
PUBLISHERS WEEKLY
There's more truth than humor in Crombie's eighth thriller set in contemporary London. When someone does in Dawn Arrowood, the young, pregnant wife of a wealthy antiques dealer, in her soign Notting Hill home, Inspector Gemma James is put in charge of the investigation. Gemma's lover, Det. Supt. Duncan Kincaid, believes the murder is the work of a serial killer, but Gemma suspects the victim's husband, Karl Arrowood. Despite their combined efforts, the slasher strikes again. Fearful of igniting a new Jack the Ripper style panic, Duncan and Gemma soon find themselves at odds when their investigations become linked in startling, unexpected ways, culminating in an exciting denouement with serious undercurrents. Crombie keeps the action moving throughout, providing a cook's tour of London, from Tower Bridge to Portobello Market, as well as plenty of gruesome detail ("Kincaid felt the bile rise in the back of his throat as he squatted, using his pocket torch to illuminate Dawn Arrowood's motionless form"). There's some amusing sociological commentary interspersed throughout, plus the occasional frisson ("A jogger brushed past, startling him a tall, slender, hooded figure. Alex felt a shock of familiarity, but when he turned, the man had vanished"). The result is a competently plotted, reasonably engaging mystery that blazes no new pathways, but keeps the reader involved all the way to its predictably sanguinary conclusion. FYI:The author has been nominated for Edgar, Agatha and Macavity awards. The Independent Mystery Booksellers Association named Crombie'sDreaming of the Bones one of the 20th century's best mystery novels.
And Justice There is None
I liked all the characters but felt it was a little slow moving. The information on Porta Belly Road were interesting.
And justice there is none
Too many characters and relationships were too complicated and confusing. Not her best book. I almost went to the end of the book so I didn't have to plow through the monotonous plot.
More Books by Deborah Crombie
See All